Touring Tech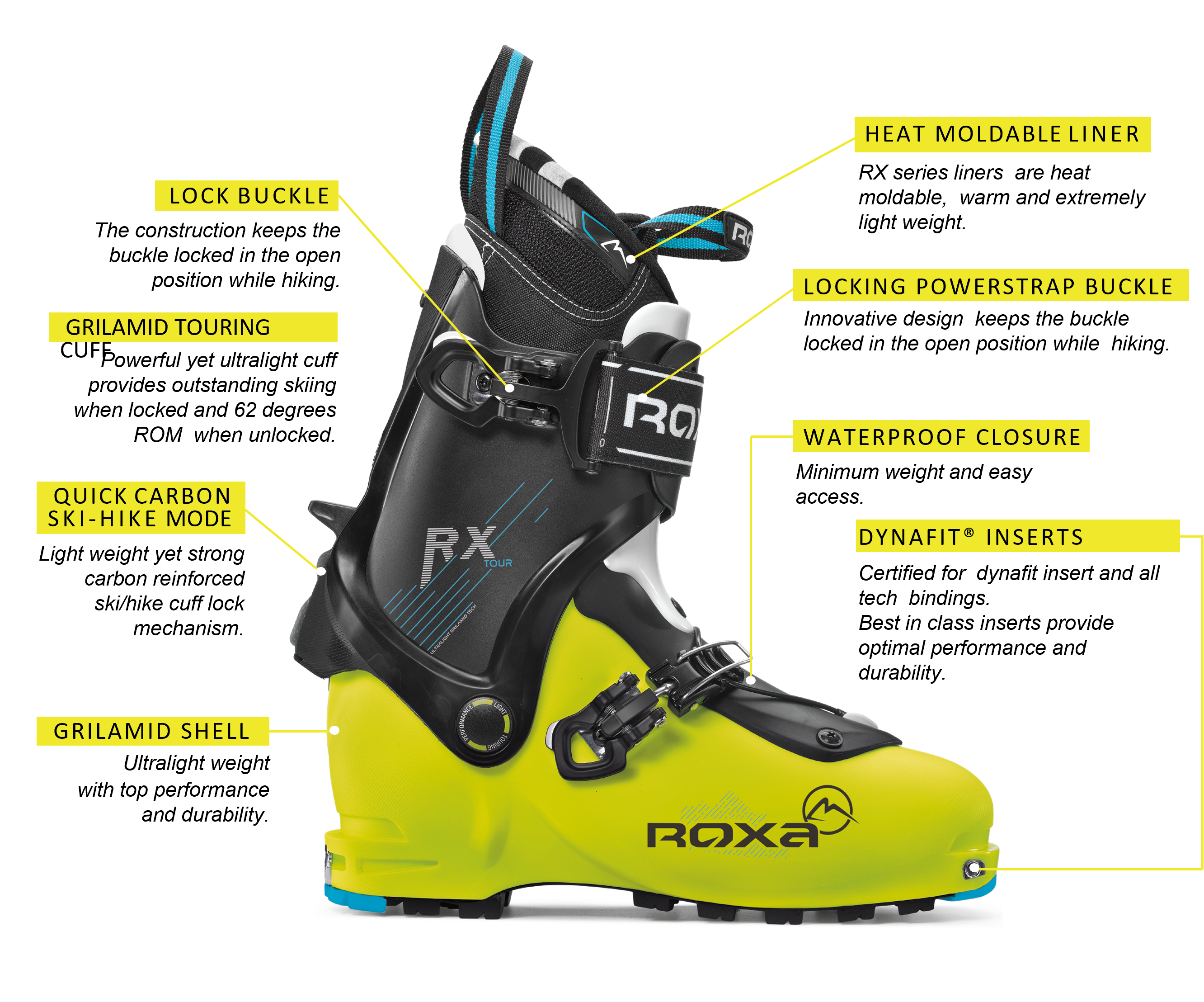 TOURING TECH​:
LOCK BUCKLE
The construction keeps the buckle locked in the open position while hiking.
GRILAMID TOURING CUFF​
Powerful yet ultralight cuff provides outstanding skiing when locked and 62 degrees ROM when unlocked.
QUICK CARBON SKI-HIKE MODE
Light weight yet strong carbon reinforced ski/hike cuff lock mechanism.
GRILAMID SHELL
Ultralight weight with top performance and durability
HEAT MOLDABLE LINER​
RX series liners are heat moldable, warm and extremely light weight.
LOCKING POWERSTRAP BUCKLE
Innovative design keeps the buckle locked in the open position while hiking.
WATERPROOF CLOSURE
Minimum weight and easy access.
DYNAFIT® INSERTS​
Certified for dynafit insert and all tech bindings. Best in class inserts provide optimal performance and durability.
3 Piece Cabrio Design Tech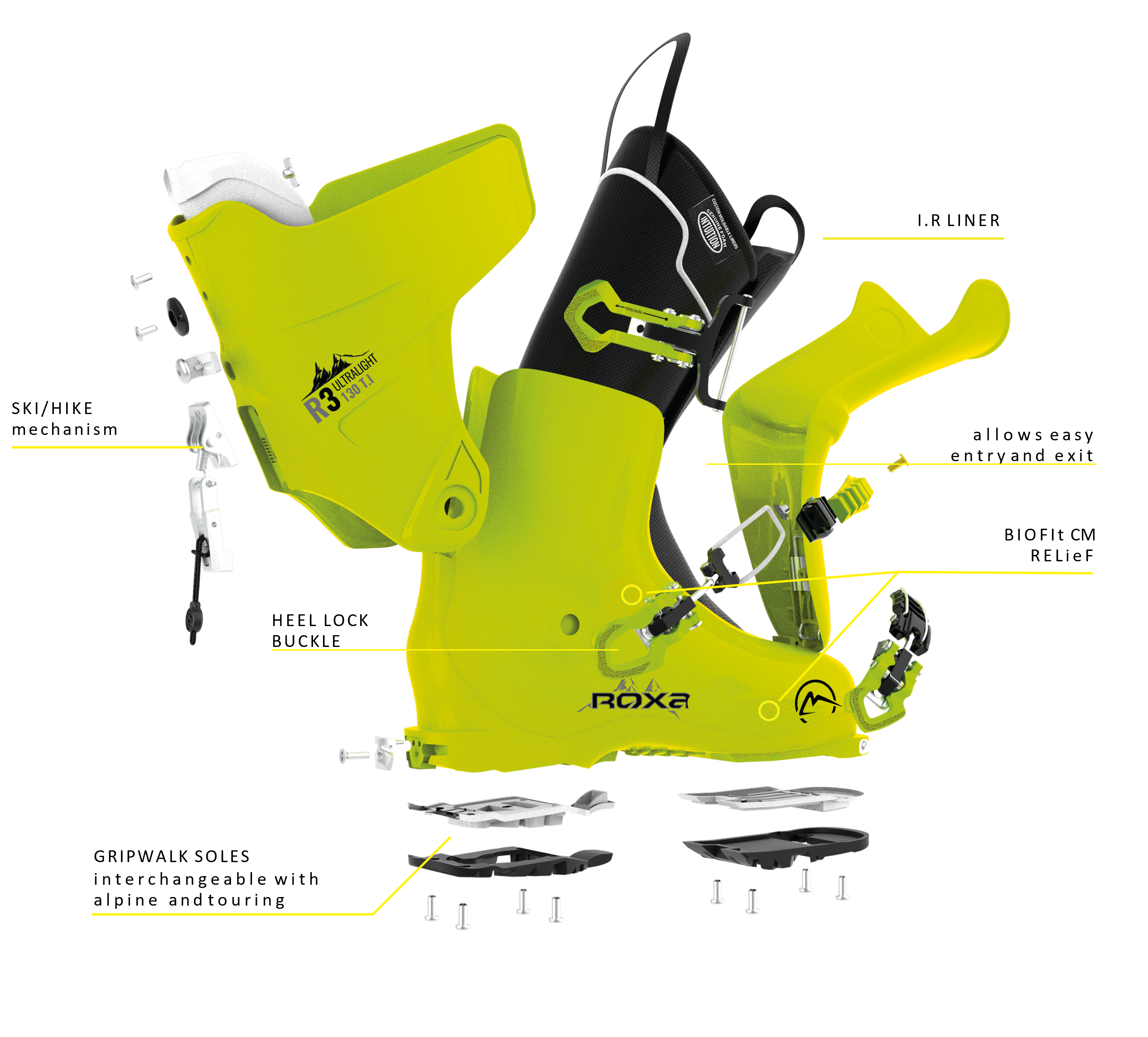 3 PIECE CABRIO DESIGN TECH​
This unique technology combines a 3 piece construction (shell/cuff/tongue) that comfortably secures the foot and lower leg while optimizing smooth and progressive flexibility. Cabrio boots are extremely versatile and really shine in varied terrain and snow conditions. Roxa's Cabrio models offer hike cuff and fixed cuff variations in several men's and women's specific models. They represent the absolute cutting edge in ski boot design and grace the feet of some of the world's best skiers. Just ask Glen Plake.
Benefits:
Smooth and progressive flex

Quick rebound

Excelent foothold

Versatile

Variable snow and terrain conditions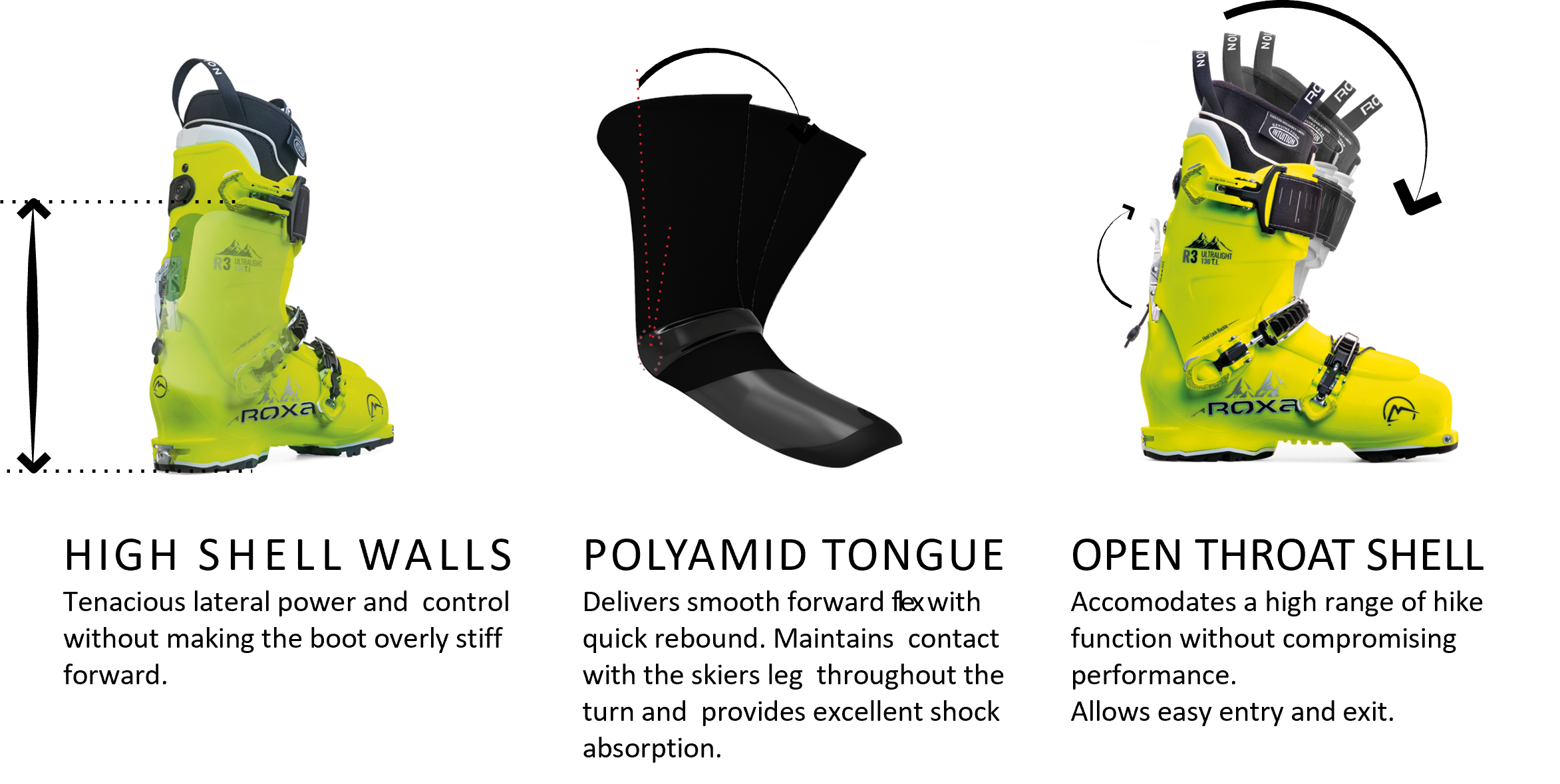 Størrelsesguide
ADULTS SIZE CONVERSION

EUROPE

35

36

36 ½

37

38

38 ½

39

40

40 ½

41

42

42 ½

43

44

44 ½

45

45 ½

46

47

47 ½

48

48 ½

UK

3

3 ½

4

4 ½

5

5 ½

6

6 ½

7

7 ½

8

8 ½

9

9 ½

10

10 ½

11

11 ½

12

12 ½

13

13 ½

USA MAN

4

4 ½

5

5 ½

6

6 ½

7

7 ½

8 ½

8 ½

9

9 ½

10

10 ½

11

11 ½

12

12 ½

13

13 ½

14

14 ½

USA WOMAN

5

5 ½

6

6 ½

7

7 ½

8

8 ½

9

9 ½

10

10 ½

11

11 ½

12

12 ½

13

13 ½

14

14 ½

15

15 ½

MONDO POINT

22

22.5

23

23.5

24

24.5

25

25.5

26

26.5

27

27.5

28

28.5

29

29.5

30

30.5

31

31.5

32

32.5

BOOT SOLE LENGTH

RX TOUR

–

–

–

–

269

269

279

279

289

289

299

299

309

309

319

319

329

329

–

–

–

–

RX TOUR W

–

259

259

259

269

269

279

279

289

289

299

299

–

–

–

–

–

–

–

–

–

–

RX CARB.

–

–

–

–

259

259

269

269

279

279

289

289

299

299

309

309

–

–

–

–

–

–

R3

–

–

–

–

280

280

290

290

300

300

310

310

320

320

330

330

340

340

–

–

–

–

R3 W

262

262

270

270

280

280

290

290

300

300

310

310

–

–

–

–

–

–

–

–

–

–

TRINITY

262

262

270

270

280

280

290

290

300

300

310

310

–

–

–

–

–

–

–

–

–

–

ELEMENT

–

–

–

–

280

280

290

290

300

300

310

310

320

320

330

330

340

340

–

–

–

–

ELEM. 90

–

275

275

275

288

288

288

302

302

302

315

315

315

330

330

330

345

345

–

–

–

–

R3 S

–

–

–

–

280

280

290

290

300

300

310

310

320

320

330

330

340

340

–

–

–

–

R/FIT

–

–

–

–

–

280

–

290

–

300

–

310

–

320

–

330

–

340

–

360

360

360

R/FIT W

–

262

–

270

–

280

–

290

–

300

–

–

–

–

–

–

–

–

–

–

–

–

R/FIT HIKE

–

–

–

–

–

280

–

290

–

300

–

310

–

320

–

330

–

340

–

360

360

360

R/FIT HIKE W

–

262

–

270

–

280

–

290

–

300

–

–

–

–

–

–

–

–

–

–

–

–